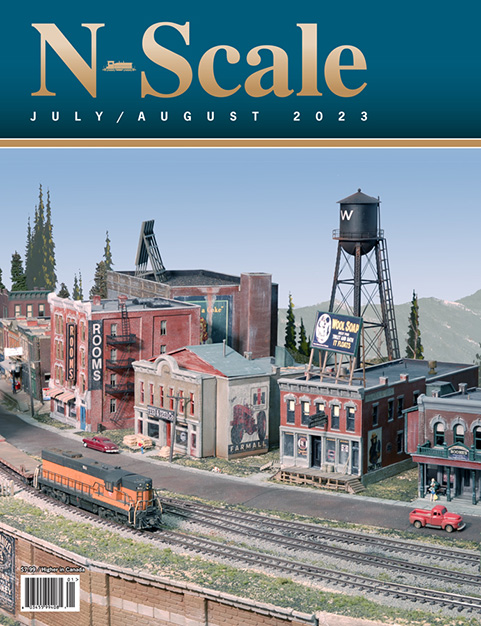 DIGITAL EDITION NOW AVAILABLE
---
30 Years of N-Scale Magazine
Now Available on CD.
IN THE CURRENT ISSUE
Along the Line Series
Part 4: Freight and Passenger Trains
by Dan Lewis, MMR
Once Upon A Waterfront
Part 3: Building a Ship Dock
by Dennis Murphy
Bulletproof Switches & Controls
by Jeff Lee, MMR
A Detailed City Scene
in a Small Footprint
by Sean Croteau
Colorado Midland
by Dave Vollmer
The Short & Nn3arrow
Building Denver South Park & Pacific Coach 17 in Nn3
by Preston Sands
---
On the cover: This small way freight, which rolls through a short section of street-running, has reached the end of the line in Winnett, a branch of a branch. The Winnett branch on the North Montana Line extended 59 miles eastward from Lewistown and served the small town of Winnett, the county seat of Petroleum County, the last county to be created in Montana. It was the town nearest the Cat Creek oil field. Join us on page 14 for Part 4 of Dan Lewis' Along the Line Series.