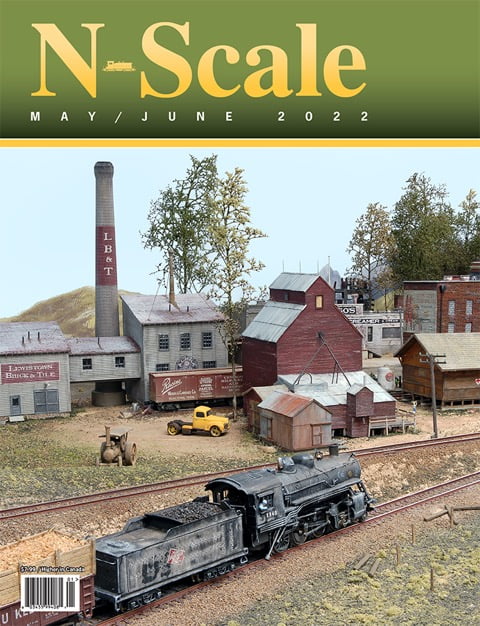 DIGITAL EDITION NOW AVAILABLE
---
30 Years of N-Scale Magazine
Now Available on CD.
IN THE CURRENT ISSUE
The Lewistown Series
Part 3: Scratch-built Structures
by Dan Lewis
Calabash & Carolina
Eastern RR
Part 2
by Ken Kilby
The story continues...
Part 3: I get the operations bug...
by Dennis Turner
In Pursuit of WOW!
Part 15 – Creating Resin Castings
Using our RTV Silicone Mold
by Dennis Machlica
The Short & Nn3arrow
Modeling the Pacific Coast Railway (Part 16); Bridging the "Ten-Mile-Gap"; the SP trhough SLO; Toma Streetcar
by Thomas Knapp, MMR #101
---
On the cover: Time Freight No. 163 rolls into the edge of Lewistown behind a Bachmann Spectrum 2-8-0. The yellow semi-tractor is a kit by Ultimate N Scale (Studebaker single axle semi-tractor, 1948-53, #B-2501). The Racine vintage boxcar is by Roundhouse. The wood chip car is an Atlas 40' gondola with scratch-built high sides and sawdust for chips. The cast white-metal steam tractor is a kit I purchased in St. Helen's, England, but it is of unknown origin. Everything else in this scene is scratch-built. Find all this, and more, in Dan Lewis' The Lewistown Series, part 3, starting on page 16.