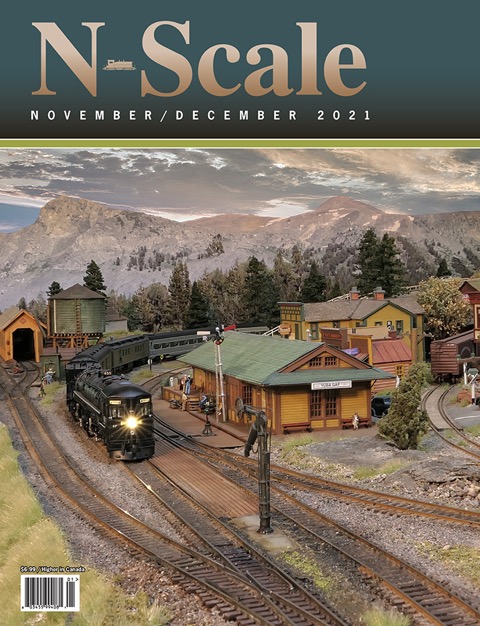 DIGITAL EDITION NOW AVAILABLE
---
30 Years of N-Scale Magazine
Now Available on CD.
IN THE CURRENT ISSUE
Review: Mooney's Plumbing Emporium Kit
Bar Mills Models
by Dennis Murphy
Sierra Northern
An N scale Layout
by Bob McLaughlin
Hooked on N Scale
by Greg Timm
Crane Module and oNeTrak
by Ted Alexis,
Photography by Dan Roswell
Kitbashing
by John Torous
Elizabeth Valley RR
In N scale
by Paul Zimmerman
DCC Workshop
Consisting Locomotives
by Timothy J. Horton
The Short & Nn3arrow
Modeling the Pacific Coast Railway
(Part 15) Finishing the Port Hartford
Asphalt Company and the town of Avila
by Thomas Knapp, MMR #101
---
On the cover: Southern Pacific Extra 4185 East glides up to the water plug at my freelanced town of Yuba Gap, circa 1949. Soon the sunset will fade and darkness will come before the extra reaches the summit. Robert McLaughlin's layout is named the Sierra Northern and is loosely based on famous Western US railroad passes such as Donner Summit and Stampede Pass. You can start your tour of his fantastic layout on page 18.