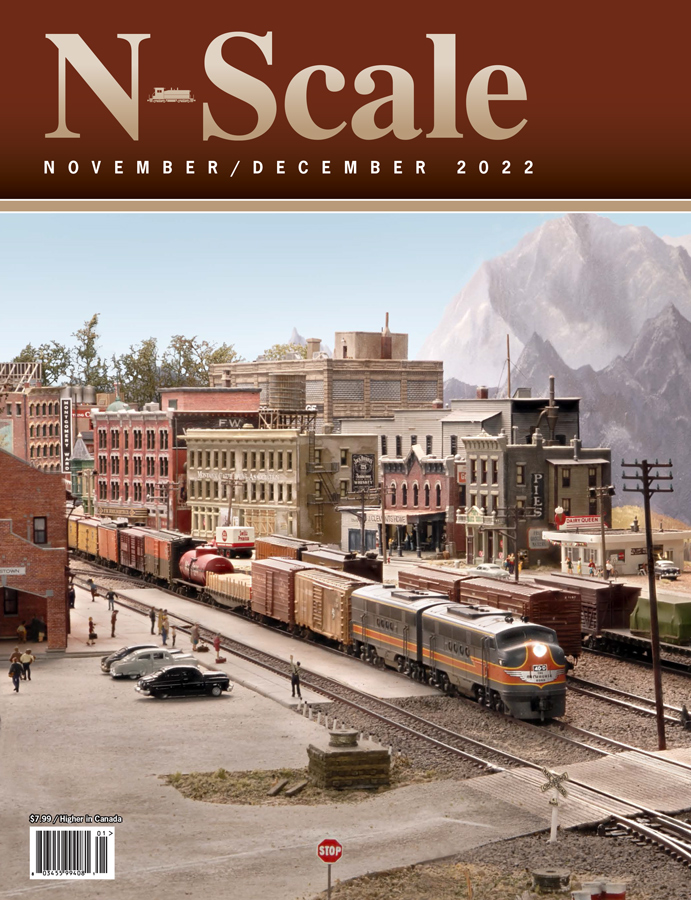 DIGITAL EDITION NOW AVAILABLE
---
30 Years of N-Scale Magazine
Now Available on CD.
IN THE CURRENT ISSUE
Detailing Continues
On the AT&SF Railroad, Part 1
by Walt Huston, Editor Emeritus
The Lewistown Series
Part 6: Pulling It All Together
by Dan Lewis, MMR
Paul's Depot Train Station Kit
Kit by Osborne Model Kits
by Dennis Murphy
Indian Valley
by Ken Kilby
In Pursuit of WOW!
Part 18 – Creating Hydrocal Walls with Windows & Doors
by Dennis Machlica
The Short & Nn3arrow
"Gilding the Lily" Valve Gear, DCC & Sound for a Lok-14 K-27
by Thomas Knapp, MMR #101
---
On the cover: Time Freight 163 eases into Lewistown Yard, observing the eight mph speed restriction. The FTs with their lightning stripe paint scheme are still functioning, but they are gradually being replaced by F7s. You can find this and more in Dan Lewis' Lewistown Series, starting on page 16.