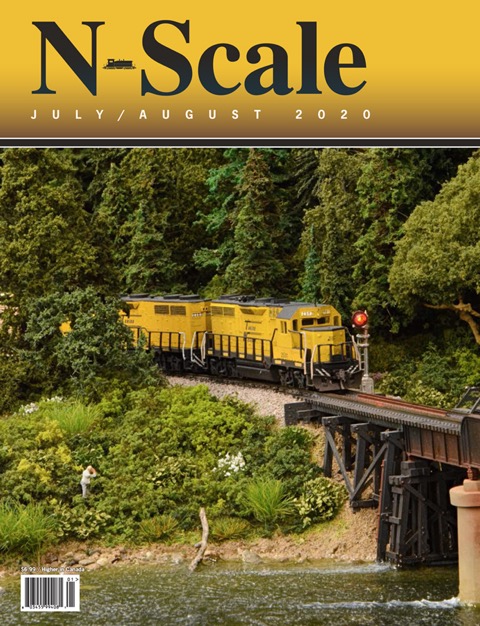 DIGITAL EDITION NOW AVAILABLE
---
30 Years of N-Scale Magazine
Now Available on CD.
IN THE CURRENT ISSUE
Ken Wodek Memorial Photo Contest
by Walt Huston
Sponsored by YardSaleTrains.com
Review: Replacement Metal Wheels
Rapido Trains N Wheelsets
by Walt Huston
A Study In Nature
Part 6 (Unconventional Coloring)
by Dennis Murphy
Modular Railroading
Electrical
by Jim Davis
Modelling the Pacific Northwoods
by Jonathan Small
DCC Workshop
Drop-In Decoder Installations
by Timothy J. Horton
In Pursuit of WOW
Part 7 – Wrapping up our set of
UP 50' box cars and a look at how the weathering of rolling stock can create a very homogenious look to our fleet
by Dennis Machlica
The Short & Nn3arrow
Modeling the Pacific Coast Railway
(Part 8) – The Wharf at Port San Luis;
David Barrett's South Great Western
by Thomas Knapp, MMR #101
---
On the cover: A railfan stands trackside composing the "perfect shot" of a rare beast. Tenino Western's GP35R 2501 is the only such locomotive on the roster and is seen here leading the LYCP-16 (Lake Yard to Cooper Point transfer) over Percival Creek. Tyler Whitcomb's photo can be found among the Ken Wodek Memorial Photo Contest entries, starting on page 16.