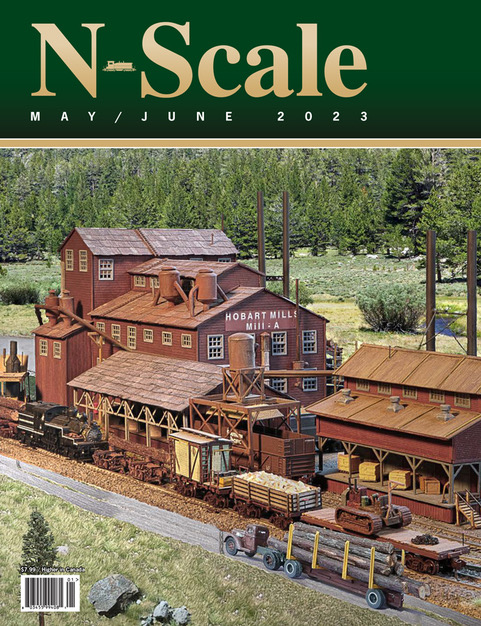 DIGITAL EDITION NOW AVAILABLE
---
30 Years of N-Scale Magazine
Now Available on CD.
IN THE CURRENT ISSUE
Quick Notes
Monroe Models Hobo Creek Bridge Kit
by Dennis Murphy
The Short & Nn3arrow
Pre-Weathered Structure;
Nn3 Turnout; Model Railroading in a War Zone; 3D Printing
by Tom Knapp, MMR#101
Along the Line Series
Part 3: Tools & Techniques
by Dan Lewis, MMR
Hobart Mills
A Lumber Mill Module
by Bob McLaughlin
Once Upon A Waterfront
Part 2
by Dennis Murphy
Eight Square Feet of Nostalgia
by David K. Smith
---
On the cover: Hobart Mills is a beehive of activity today. A Shay switches loaded skeleton log cars, disconnected log cars, and support cars for the woods train. These include a scrap wood load for the camp stoves and a logging tractor. Meanwhile, a truck delivers more logs to the mill pond. You'll find all this and more on Bob McLaughlin's Hobart Mills module, starting on page 32.