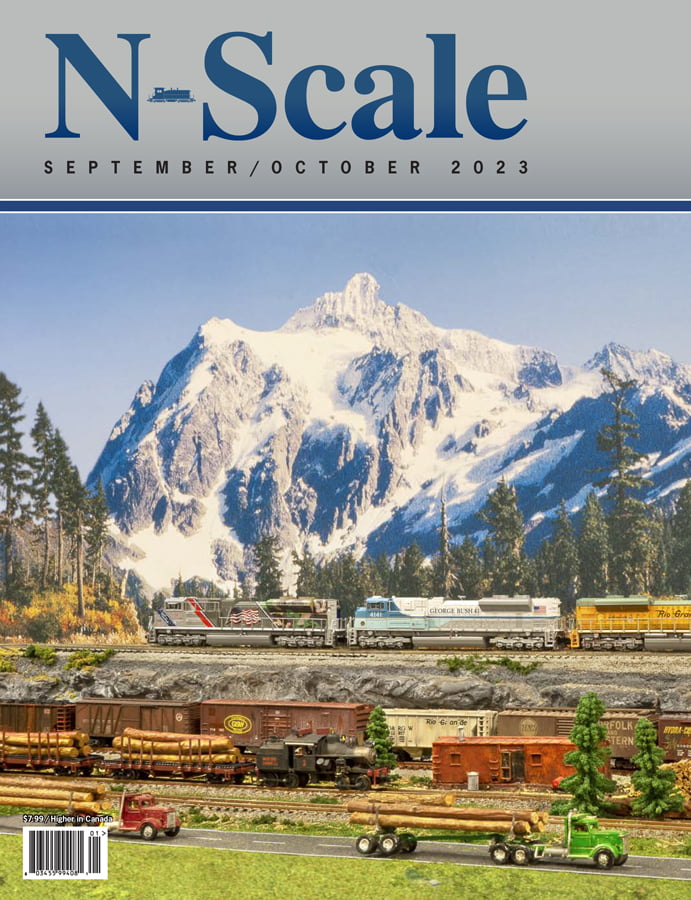 DIGITAL EDITION NOW AVAILABLE
---
30 Years of N-Scale Magazine
Now Available on CD.
IN THE CURRENT ISSUE
Along the Line Series
Part 5: Yards
by Dan Lewis, MMR
The Short & Nn3arrow
Modeling the Pacific Coast Railway,
Part 18: PCRy Box Cars;
Kauai Model Railroaders
by Tom Knapp, MMR #101
Grand Strand Model Railroad Club
Part 3
by Ken Kilby
International Train World, Museum and Theme Park
by J. Philip Knight-Sheen
Once Upon A Waterfront
Part 4: Building a Floating Dock for Small Boats
by Dennis Murphy
Quick Notes
McCormac's Kit
by Dennis Murphy
---
On the cover: Winter comes early to the high country so the old trusty Heisler is kept busy bringing loads down from the logging camps before the snow shuts down the operation. The logs will be transferred to trucks from this point, then transported to the abundant mills in the area. Heavy loads like pulp wood require multiple units like the UP Specialty locomotives to conquer the summit at Rock Point. Explore this layout further in Ken Kilby's The Grand Strand Model Railroad Club, Part 3, starting on page 16.